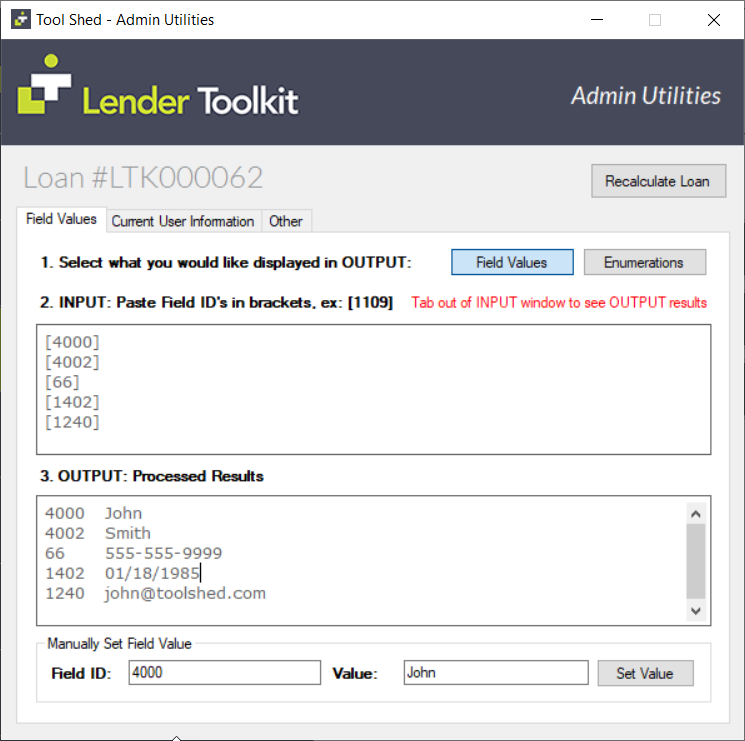 Challenge
Encompass Administrators have the very important job of being able to enhance the Encompass system to work effectively, efficiently, and compliantly. While there are tools provided within Encompass to help them create settings, do research, and report on loan data, sometimes they find themselves wanting a handful of extra tools allowing them to work more efficiently and to gain better insights into their environments configurations.
Solution
The Admin Utilities tool in Lender Toolkit's Toolshed is automatically installed with the Toolshed management software and is available for Free! It includes:
View and update loan data by field ID without having to find the fields on their respective forms or manually adding them to custom input forms
Current User Information Custom Fields for use in business rules and other advanced coding logic
Exports of Encompass settings to Excel for easy review and updates
Tools to automatically remove duplicate documents and tasks
Value
The Admin Utilities tool is a great launch pad for Encompass Administrators to be more efficient, and gain better insight into their Encompass environments. With this basic set of free tools, Admins can create enhancements faster, and continually improve their Encompass system more proactively.