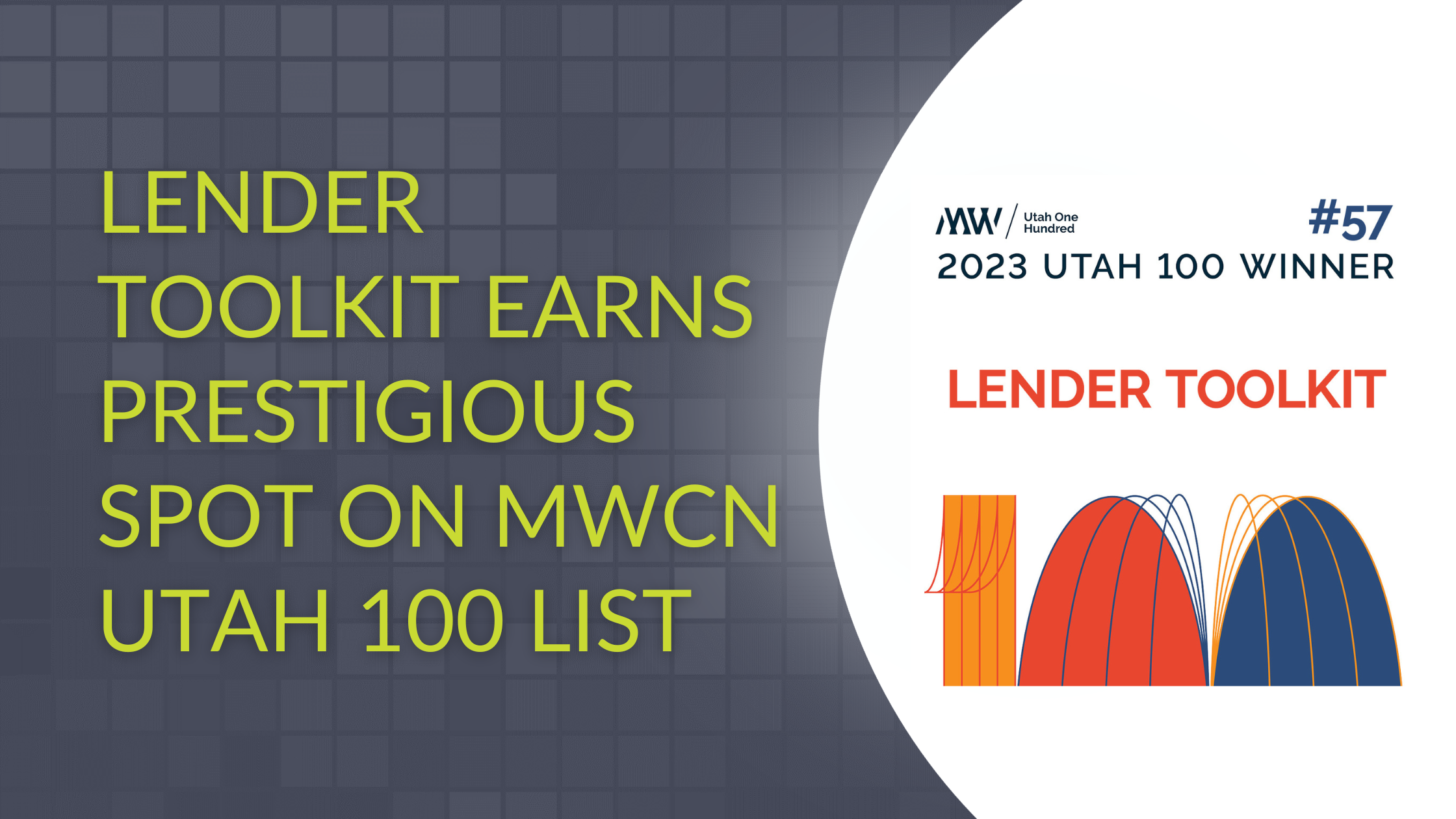 We are thrilled to announce that Lender Toolkit has once again been recognized as one of Utah's fastest-growing companies by making it onto the MWCN Utah 100 list for 2023. This esteemed accolade is a testament to our dedication to innovation, outstanding service, and relentless pursuit of excellence in the mortgage technology sector. 
What is the MWCN Utah 100? 
The MWCN Utah 100 is a highly regarded annual program organized by the MountainWest Capital Network. It identifies and celebrates the top 100 fastest-growing companies in Utah across various industries. The list is meticulously curated based on a company's revenue growth over a specific period, showcasing organizations that have demonstrated exceptional performance and made a significant impact on Utah's business landscape. 
Lender Toolkit's Remarkable Growth Journey 
Earning a place on the MWCN Utah 100 list is a testament to our team's hard work, innovative spirit, and unwavering commitment to our clients. It affirms that we are not only keeping pace with industry trends but also driving them forward. 
Our journey to this recognition has been marked by a relentless pursuit of providing cutting-edge solutions for the mortgage industry. Through our comprehensive suite of tools and training, we empower our clients to streamline their loan processing, enhance customer service, and ultimately grow their businesses. 
Celebrating Success with Our Valued Clients 
We owe this achievement to our valued clients, who have placed their trust in us as their technology partner. Your feedback and support have been invaluable in shaping our solutions and driving us towards excellence. 
This recognition reaffirms our mission to continue pushing boundaries and setting new standards in the mortgage technology landscape. We remain committed to providing you with the tools and resources you need to thrive in a dynamic and competitive industry. 
A Bright Future Ahead 
Being named to the MWCN Utah 100 list is a milestone for Lender Toolkit, but it is only the beginning. We are excited about the opportunities that lie ahead and are eager to continue innovating, growing, and serving our clients with unwavering dedication. 
Thank you for being a part of our journey. We look forward to achieving even greater heights together! 
For more information about the MWCN Utah 100 list, please visit MWCN Utah 100. 
To learn more about Lender Toolkit and how we can help your business thrive, contact us today for a free demo.