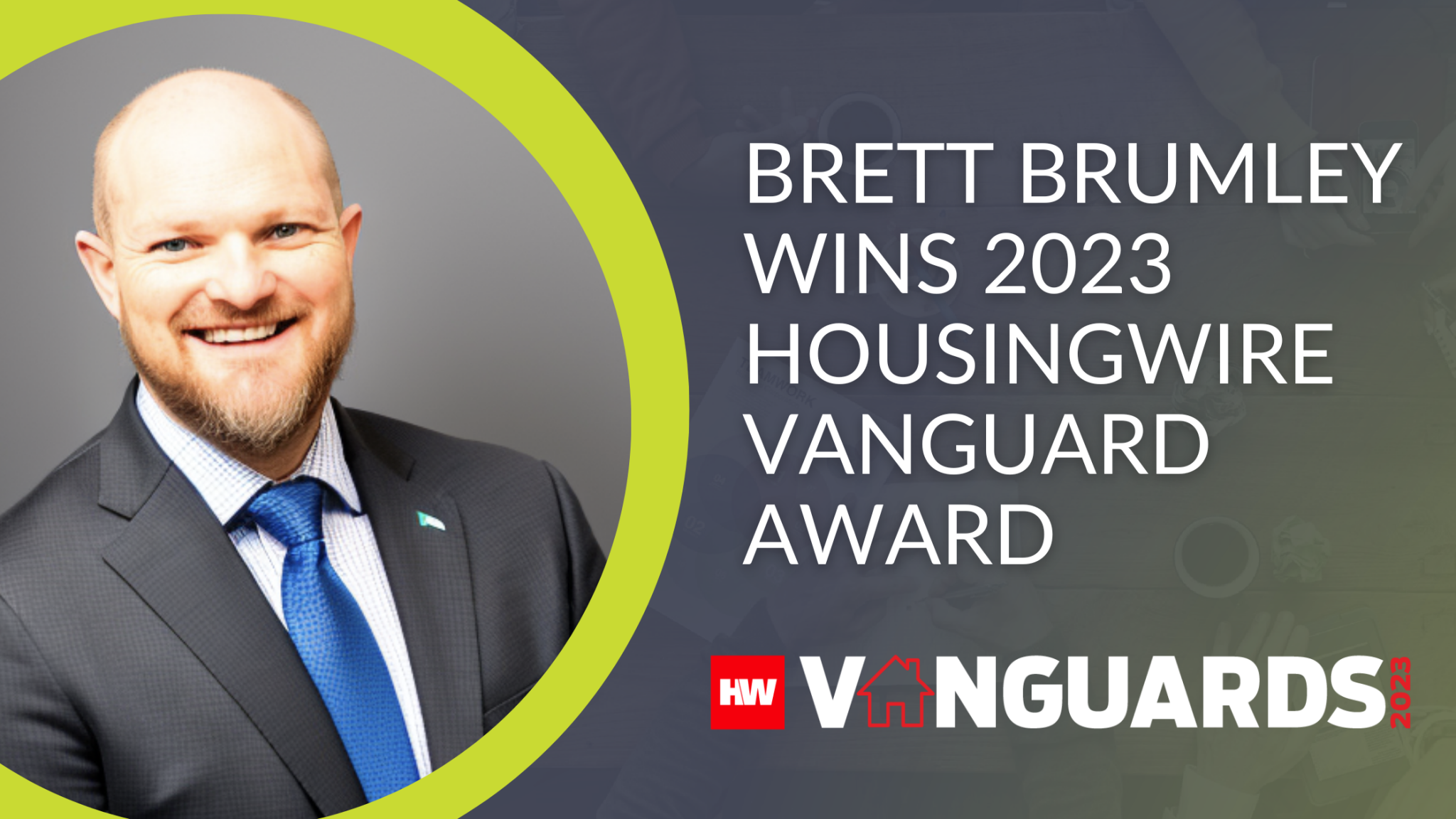 We are thrilled to announce that our founder and CEO, Brett Brumley, has been honored with the prestigious Vanguard award by HousingWire. The Vanguard award recognizes the leaders and innovators who have made outstanding contributions to the mortgage industry in the past year. Brett is one of the 100 recipients of this year's award, which celebrates his visionary leadership and innovation in mortgage technology.
Brett has been a pioneer in the field of artificial intelligence (AI) and automation in mortgage lending. Long before AI became the topic de jour in the mortgage industry, Brett had conceived and built a company that seamlessly integrates AI into the underwriting process to help lenders save time and money. As the founder and CEO of Lender Toolkit, Brett has created tools for effortlessly automating and streamlining many mortgage tasks from origination to underwriting to the secondary market, including AI Underwriter, which delivers one-touch loan decisions by enabling lenders to customize, automate and apply underwriting conditions in 90 seconds or less. Through a partnership with the industry's leading loan origination system, Encompass®, the company develops technology to automate mortgage processes and creates an enhanced user experience to drive efficiencies and increase profitability for lender clients.
Brett's passion for mortgage technology stems from his early exposure to the industry. He grew up watching his mother work in the industry—she has been in the mortgage business for over 40 years—and recalls hanging out at some of the country's largest lenders from a young age. Today, Brett's deep understanding of the industry and his curiosity and innovation have been the driving force behind Lender Toolkit's outstanding success. Lender Toolkit has doubled in size since Brett founded the company seven years ago, and it now works with hundreds of lenders of all sizes—including many of the top 50 lenders in the country— representing more than $45 billion in loan volume.
However, it's been during the past 12 months in particular that Brett's exceptional leadership has led to the creation of cutting-edge tools that automate mortgage processes, streamline operations, and enhance user efficiencies and boosts profitability. Under Brett's leadership, the company introduced two groundbreaking products that have helped modernize the mortgage industry. The first, AI Underwriter™, is transforming the historically labor-intensive nature of loan underwriting applying AI-powered automation to deliver data-driven loan condition decisions in 90 seconds or less. This innovation, released in August of last year, is not only helping lenders improve efficiency at a time when volumes are down and loan production costs are at record highs, but it's also enabling them to deliver a better and faster customer experience. Brett also oversaw the development and release of Prism™, which streamlines income calculations by integrating agency guidelines and OCR technology. This simplified workflow turbocharges income automation for all income types, extracting data effortlessly from a borrower's income documents. Prism's unique human-in-the-loop workflow also delivers unmatched accuracy and speed when calculating income, which saves lenders additional time and money—especially as the number of self-employed borrowers continues to grow.
Both AI Underwriter and Prism are integrated with Encompass®, further enhancing lenders' capabilities. This powerful integration empowers lenders to streamline the income calculation process, accelerate cycle times, increase profitability, and outperform their competition.
Beyond his professional achievements, which include being named as a HW 2022 Technology Trendsetter, Brett's commitment to advancing the mortgage sector is evident in his involvement with trade organizations and volunteering efforts. He has been a member of the member of the Mortgage Action Alliance (MAA), and actively contributes to the growth and development of the industry as a whole, sharing his expertise and insights with fellow mortgage professionals.
We are incredibly proud of Brett for receiving this well-deserved recognition from HousingWire. We congratulate him on this remarkable achievement and look forward to his continued leadership and innovation in mortgage technology.
Check out some of the shots from the legendary pickle ball tournament with team Same Day Pickle made up of Brett and Steve Sigaty, as well as an inside view of the HousingWire conference awards. Best Dressed Award was well deserved!