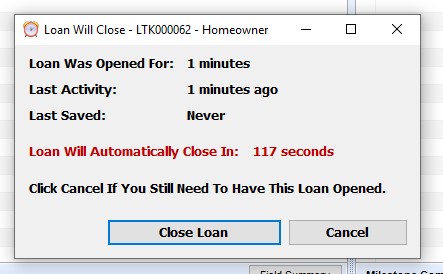 Challenge
Regularly users will remain in a loan well after they've finished working on it. Whether they leave for lunch, for the day, or for a meeting, when Encompass is configured to only allow one user editing a file at a time (multi-user editing is generally not suggested) it can essentially prevent any other users in the organization from opening that loan without kicking them out or tracking them down. Kicking users out of the loan can be problematic as it may result in unsaved changes being lost.
Solution
The Auto Close plugin in Lender Toolkit's Toolshed keeps track of a user's activity in a loan, and if they haven't interacted with the Encompass application for a designated amount of time they will automatically be exited from the loan. It is configurable to save the loan before closing or can exit the loan without saving changes. It can also force the user's entire Encompass instance to close after exiting the loan, and includes a setting to force all user sessions to close at a specified time of day (we suggest 3:00AM). All these amazing settings can also be configured for specific personas!
Value
The ability to prevent users from keeping a loan open on their system can prevent many headaches throughout the loan process. Time previously wasted waiting for users to get back to their desks or return the next day is no longer as big a worry, and users can continue to work effectively and efficiently to close more loans.