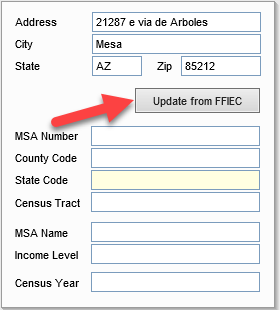 Challenge
Gathering information like the MSA Number, County and State Codes, Census Tract, and other FFIEC data typically requires that a user manually visit the FFIEC website and enter the subject property address to gather this information and then manually enter it into Encompass. This can be time consuming, and due to manual entry can be prone to typographical errors.
Solution
The FFIEC Lookup tool in Lender Toolkit's Toolshed adds a custom input form to Encompass that allows users to do the FFIEC lookup with the click of a button. The tool makes use of the FFIEC APIs to download all the data you need into the loan.
Value
The automatic download of data ensures that no typos are present, and speeds up the process of gathering FFIEC data for each loan. Minutes saved per loan amounts to potentially hundreds of hours saved per year allowing for more efficient loan processing and getting more loans to close quickly.