Lender Toolkit is made up of people from all around the country. As a remote company it can be difficult to find ways to connect, but with our bi-weekly virtual meditations and happy hour trivia nights I've found that we all have a lot in common. We'd love for you to get to know some of the people who make this company exceptional through these periodic posts. This week, I had the pleasure of interviewing our Director of Sales, Brent Emler, one of the many faces of our team.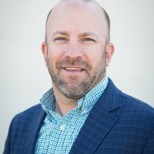 Tell us a bit about your background – how did you end up at Lender Toolkit?
I developed a relationship with Brett and Lender Toolkit while working at another mortgage technology company. The immense talent at Lender Toolkit drew me in. There's nothing better than being surrounded by world class talent. You know what they say, "you are the sum of the people you surround yourself with". My knowledge level has increased ten fold in the few months I have been at Lender Toolkit.
Where do you live? What do you like about it?
I live in Idaho. I love the outdoors. White water rafting, snowboarding, hiking, and dirt bike riding areas are as plentiful as they are beautiful in Idaho. I can't think of a better place to live and raise a family.
What do you love about working at Lender Toolkit?
Learning and being part of a truly transformational organization. The mortgage industry is replete with amazing people but it's also filled with opportunities for improvement. Being a cog in the wheel of change is extremely satisfying and exciting.
What have you learned about yourself or the world from the pandemic?
The closer you are to something, the more you can grow with it. The pandemic brought my family closer together physically. We have spent so much more time in the same space. It's been challenging but very rewarding to work through the challenges growth offers.
What are some ways that you like to relax / stay grounded?
Relaxing is a challenge. I like to go, go, go. However, I have learned that creating space for relaxation is essential for well-being. My garden provides a relaxing space. I enjoy nourishing the garden, watching it grow, and enjoying the benefits as the season progresses.
What are some of your favorite hobbies?
Snowboarding, white water rafting, gardening, hiking, dirt biking.
Something that much of the team at Lender Toolkit has in common is the love for the outdoors. This is why we've chosen Park City, Utah as the location for our long-awaited company summit next month. I know how excited we all are to see each other face-to-face after a year+ of virtual interactions. Brent won't have to suffer the Zoom delay messing with his timing for jokes anymore.
To the mountains we go!