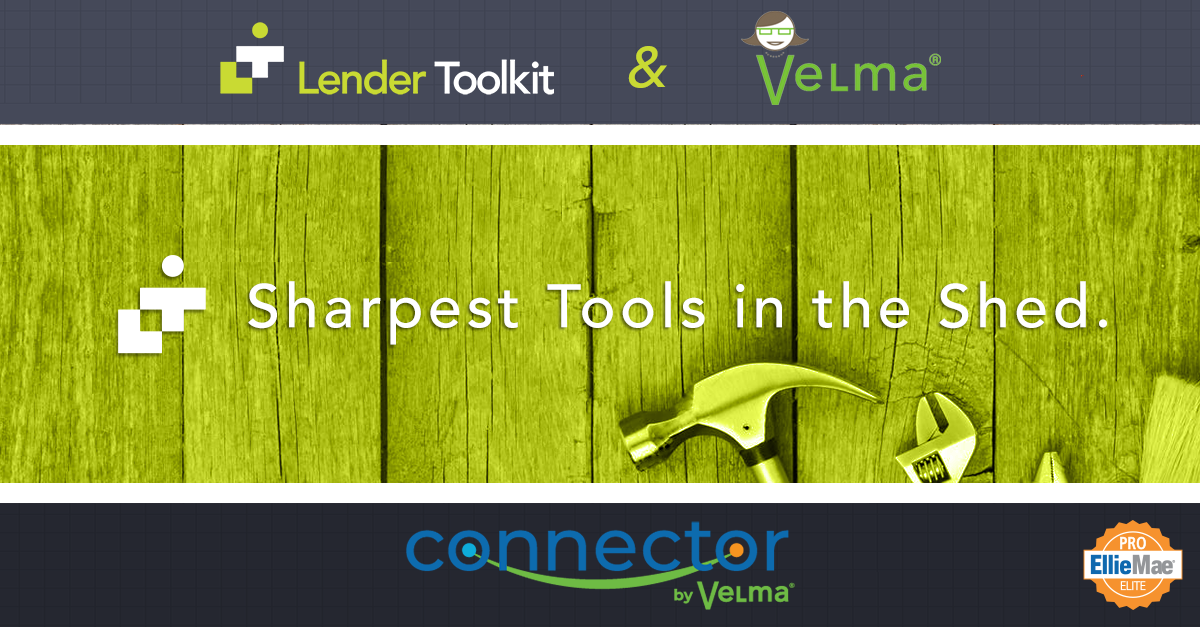 NAMPA, IDAHO (PRWEB) DECEMBER 13, 2019
Lender Toolkit and Velma.com are partnering to ensure mortgage lender success with the new Connector by Velma® solution. The Connector extends the Encompass™ Digital Lending Platform by automating processes and workflows, ensuring compliance, and improving engagement.
Velma has been in the mortgage CRM business since 2007, but Connector solves problems a CRM can't. Coupling superior data access and logic with Velma's marketing and workflow automation technology, Connector provides value across the digital mortgage journey. Operations, Compliance, Sales, and IT can all benefit from the Connector, which is typically deployed initially to solve one or two pain points with a lower entry price point than a CRM.
Lender Toolkit brings deep knowledge in mortgage banking and is an Ellie Mae Elite Partner. As experts in helping clients effectively configure and administer Encompass, Lender Toolkit is a natural fit to consult and ensure Connector is properly configured to solve client's most pressing or highest ROI needs now and in the future.
"With Velma's pre-built strategies and workflows, we can have our clients up and running in a few days as well as implement custom configurations to best meet their needs," said Brett Brumley, Managing Partner for Lender Toolkit. "Connector's an innovative and effective way to enhance the value of your Encompass investment while eliminating the adoption, integration, and security headaches common with other solutions."
"We are estatic to be working with Lender Toolkit," exclaims Ben Price, Velma President. "Brett and his team are trusted advisors and Encompass gurus second to none. By partnering with Lender Toolkit and participating in the Ellie Mae Partner Program we bring deep knowledge and obvious value across the lender's operations, while either enhancing or replacing existing CRM systems."
ABOUT VELMA.COM
Velma.com is a leader in mortgage marketing and creating customers and partners for life. Velma provides cloud-based marketing automation, content, CRM, and multimedia communication that has delighted our clients since 2007 with its ease of use, quality, and effectiveness. For more information, visit http://www.velma.com. For more information on Connector by Velma, visit http://www.meetconnector.com.
ABOUT LENDER TOOLKIT
The Lender Toolkit team uses their deep industry experience to help customers gain efficiencies, improve processes and stay compliant by effectively configuring and customizing the industry's top mortgage software platform, the Encompass Digital Mortgage Platform. With Ellie Mae Certified Admins, Developers, Project Managers, and BA professionals on staff, they can effectively manage and direct mortgage technology initiatives. For more information, visit http://dev-wp.lendertoolkit.com.
PRESS CONTACT FOR VELMA.COM:
Nicole Anderson
Velma Communications
208 854.7900
nanderson@velma.com
www.velma.com
PRESS CONTACT FOR LENDER TOOLKIT:
Brett Brumley
Lender Toolkit Communications
801 784.6514
info@lendertoolkit.com
www.lendertoolkit.com