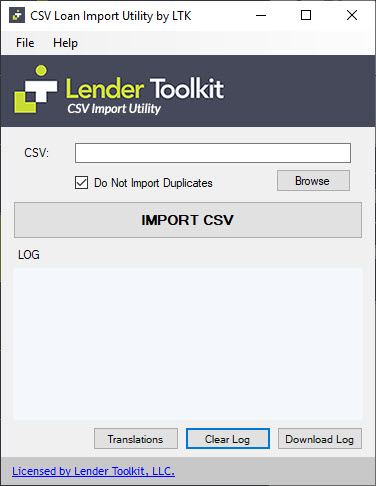 Challenge
There are many cases in which a company may need to import many loans into their system at once. Whether it's a batch of test loans, loans purchased from a correspondent lender, loans being sent in from a broker, or many other use cases. However, there's no current feature built into Encompass to gracefully handle such situations out of the box.
Solution
Lender Toolkit's CSV Loan Import tool provides lenders with the ability to easily import a CSV file containing loan data into their Encompass environment. The tool requires no configuration unless additional translations to the data are needed, and will read field IDs from the CSV header row to dynamically and intelligently create loans and copy data accurately. The CSV Loan Import tool also comes with robust logging functionality so that issues can easily be diagnosed and remedied, if any issues are encountered.
Value
By providing a method by which loans can be imported automatically, lenders can easily expand their product offering and change to market demands quickly and with very little overhead. There are countless hours that can be saved by importing loans without being constrained by FNMA files or other standardized loan data formats that don't have all the data or information you might need.